Almost one third of Germany's energy consumption is used to generate space heating and hot water. This energy demand is still largely covered by burning fossil fuels. On the other hand, about one fifth of the total primary energy used in Germany is lost during conversion, usually as waste heat. Reusing this waste heat as a heating source in the sense of a circular economy offers enormous potential, in particular in view of the current geopolitical crisis. District heating networks offer a suitable means for this. They already make a significant contribution to the thermal recycling of waste. In the heating network system 4.0, heat is provided from renewable energies and from waste heat, e.g. from industrial processes. By feeding waste heat into the district heating network, a local or communal recycling economy is established at the local or municipal level to reduce greenhouse gases. To this end, the new German government plans, among other things, to exploit the waste heat potential of data centers. A 2017 study commissioned by the BMWi estimates a long-term economic savings potential of up to 30 percent through measures such as waste heat utilization - irrespective of the real decline in building heat demand.
"I'm very happy that our project got approved. It is now our task to demonstrate, how applied mathematics and simulation science can help transforming our heating landscape", says junior research group leader Benjamin Unger, who will contribute to the project with with expertise on model order reduction and delay differential equations.
Today's district heating networks are poorly equipped to meet future challenges. Until now, many passive consumers have been supplied from a single feed-in node. In the future, however, industrial customers in particular will not only draw heat from the network, but also feed into it - and not uniformly, but in batches that follow certain process steps. This raises a number of unsolved problems and the operation of district heating networks will become considerably more demanding. Engineering is already carrying out extensive research into the design of such networks and new technical components. In contrast, the mathematical-algorithmic fundamentals for optimal operation of future heat networks have been largely ignored so far. The ELAN joint project is intended to help close this gap.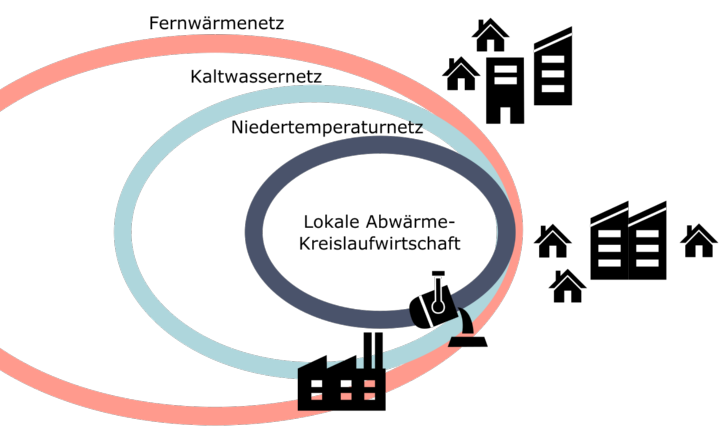 Benjamin Unger's project "ElAN – Effiziente lokale Abwärmenutzung in Niedertemperaturnetzen" (Efficient local waste heat utilization in low-temperature networks) is a collaborative project, following the BMBF call for proposals in the field of "Mathematics for Innovations", and contributes to the development of methods for dealing with challenges in digitization and sustainability. Besides the University of Stuttgart also Trier University, the University of Konstanz, and the Fraunhofer Institute for Industrial Mathematics (ITWM) are involved in the project.
In the joint project, low-temperature heat grids in which, in addition to a centralized feed-in, so-called prosumers also act as decentralized players in the grid are to be considered. These actors have their own heat demand in their role as consumers and provide waste heat (< 60◦C) for the heat grid in their role as producers. A local waste heat cycle economy with decentralized feed-in points is created, which can be described by a dynamic system model. A special focus is on the reversal of the flow direction in the heat network. Changing flow directions in individual pipes of the heat network are to be expected regularly in the course of a simulation cycle, on the one hand due to the prosumers and on the other hand due to the network structure. They necessitate the development of novel, efficient simulation, reduction, optimization and control methods for the dynamic system.
An optimal control of the operation mode of low-temperature heat networks will therefore be designed in the course of the project. The goal is to create a sustainable on-site heat supply through local, climate-neutral feeds (waste heat e.g. from data centers, foundries, or supermarkets). This project is the first attempt to set up an economic MPC control for heat grids with multiple distributed feeders, which can be applied in real time to real-size grids.