The interdisciplinary study course Simulation Technology connects:
- mathematics,
- engineering,
- computer science and
- natural sciences.
Since 2010, the six-semester, German-language bachelor's program has been offering its up to 30 students per year a broad basic education. It provides an insight into the interrelationships of the various disciplines.
> You can find more information about the Bachelor's program here.
Since 2013, graduates of the Master's program have been able to continue their education and specialize in certain areas of application. The research-oriented Master of Science provides an excellent basis for a subsequent PhD.
> More information about the Master's program can be found here.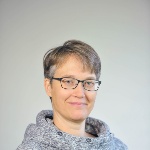 Maren Paul
Dr.-Ing.
Coordinator Study Program
[Photo: SimTech/Max Kovalenko]