Funding
The IGF-Project no.: 21.079 N / DVS-No.: 06.3341 of the "Forschungsvereinigung Schweißen und verwandte Verfahren e.V." of the German Welding Society (DVS), Aachener Str. 172, 40223 Düsseldorf, Germany, was funded by the Federal Ministry for Economic Affairs and Energy (BMWi) via the German Federation of Industrial Research Associations (AiF) in accordance with the policy to support the Industrial Collective Research (IGF) on the orders of the German Bundestag.
Funded by the German Research Foundation (DFG) 390740016 / EXC-2075.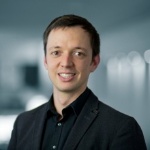 Felix Fritzen
Prof. Dr.-Ing. Dipl.-Math. techn.
Data Analytics in Engineering