In 2022, the Cluster of Excellence SimTech will again participate in the Germany-wide Diversity Day, which celebrates its 10th anniversary this year. On May 31, 2022, the members and signatories of the Diversity Network and organizations in which diversity is practiced will fly the flag for diversity with creative actions.
As in previous years, SimTech is again participating this year by taking up the diversity of the cluster with a broad smile. Building on George Carlin's saying that "everyone smiles in the same language", SimTech would like to display and promote diversity in the Cluster of Excellence. For this purpose, photos were collected on which people are smiling, laughing or chuckling.
"We are pleased to be able to demonstrate that research, studying or administration are not always serious and especially not faceless. It's nice to be able to show the people who stand behind SimTech and make it what it is," explains Almut Meyer zu Schwabedissen, Equality and Diversity Manager of the Cluster.
Also, on this special day we like to seek the opportunity to introduce one of our PhD students: Franziska Domeier. In a video made together with the Pooling initiative of the University of Stuttgart, Franziska explains what kind of research she is conducting, why she chose exactly this and why she is taking the path of a PhD. And we have nothing to add to her concluding sentence "sometimes in life you have to be courageous to do something". See the video here.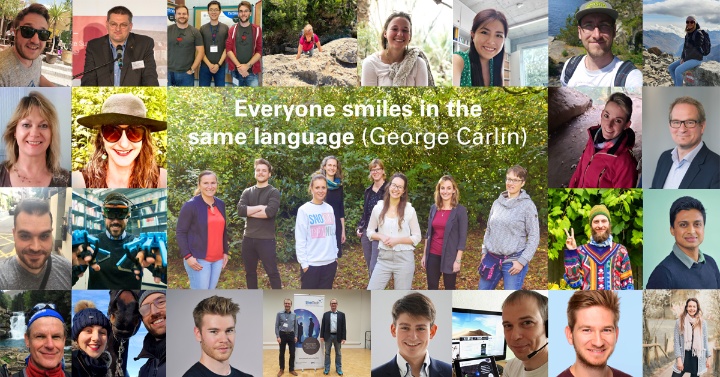 Diversity at the University of Stuttgart
The University of Stuttgart has already been offering events since the beginning of May under the headline "Intelligent through diversity. Through diversity to success." Rector Prof. Wolfram Ressel and the Vice Rector for Diversity and International Affairs, Prof. Silke Wieprecht, are officially kicking off the University of Stuttgart's participation in the Germany-wide Diversity Day of the Diversity Charter today, May 31, 2022, at 1:30 p.m..
Various actors will contribute with lectures, workshops and creative contributions to a comprehensive program that from mid-May to June will focus on the question of how we at the University of Stuttgart are intelligent through diversity and successful through diversity. As an individual, team and university. In this way, university members gain insight into measures and projects at the university, concrete diversity research topics as well as practical examples and key factors from university and corporate culture. Everyone is always invited to participate.