This conference has shown the practical impact and potential of the different aspects of data-integrated simulation science," noted Steffen Staab, spokesperson of the Cluster of Excellence SimTech, during the Closing Ceremony of the 3rd International Conference on Data-Integrated Simulation Science, held from October 4 to 6, 2023.
Hosted by the Cluster of Excellence SimTech at the University of Stuttgart and organized by General Chair Miriam Schulte, the conference brought together approximately 250 participants from different research areas and institutions. It offered a diverse program that facilitated the exchange of ideas and fostered collaboration among experts in the field.
From enlightening and controversial keynote talks to invigorating mini-symposia with renowned speakers from within and outside of SimTech and the University of Stuttgart, the conference served as a hub for exchanging cutting-edge research and insights. Attendees also had the opportunity to network during a Welcome Reception on the first evening and a conference dinner on the second night at the Filderhalle near Stuttgart.
Best Poster Award
One of the highlights of the conference was the announcement of the Best Poster Award during the Closing Ceremony, recognizing the outstanding work presented at the conference. Claudius Haag and Robin Strässer secured the third prize each, accompanied by a 100 EUR reward, while the second prize of 200 EUR was claimed by Mario Gaimann. The top honor, accompanied by a prize of 300 EUR, was bestowed upon Vincent Wagner. All four prevailed in a public voting in a competition of about 100 submitted posters.
3rd Place
Claudius Haag: "Constrained Splines to Data for Predicting Instabilities of MREs"
Robin Strässer: "Koopman-based Data-Driven Control of Nonlinear Systems"
2nd Place
Mario Gaimann: "The Physics of Reservoir Computing with Swarms"
1st Place
Vincent Wagner: "Eulerian Parameter Inference – How to prepare a method for the harsh reality"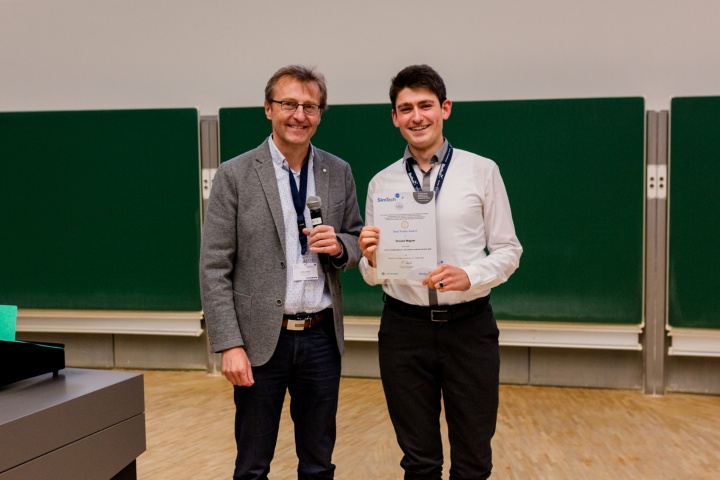 Honorary Argyris Lecture
During SimTech2023, the 2023 Argyris Visiting Professor Daniel M. Tartakovsky, Professor in Energy Science and Engineering Department, Institute for Computational Mathematics and Engineering, and Bio-X at Stanford University, held his honorary Argyris Lecture on "Use and Abuse of Machine Learning in Scientific Discovery".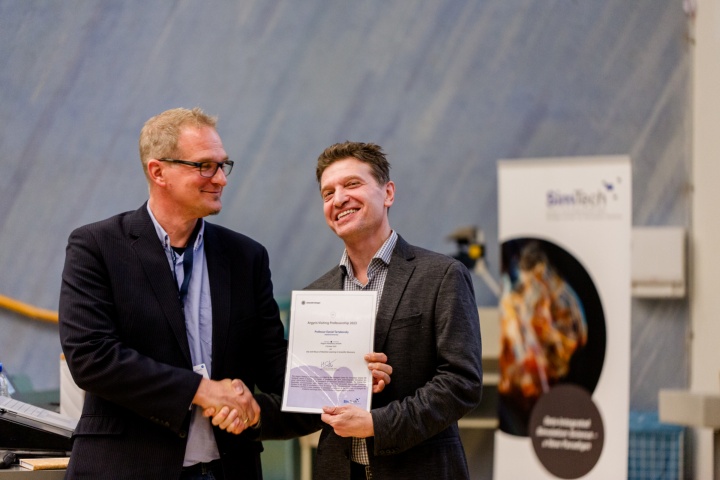 Relevance of Data-Integrated Simulation Science
The importance of Data-Integrated Simulation Science cannot be overstated. In today's fast-paced world, the integration of data and simulation techniques has profound implications for research, development, and society at large. This multidisciplinary field has the potential to revolutionize industries ranging from healthcare and engineering to climate science and urban planning. The 3rd International Conference brought together researchers from across fields, providing a platform for exchanging ideas, collaboration, and innovation. As Steffen Staab noted during the Closing Ceremony, "This conference exemplifies how data and simulation are the cornerstones of progress and innovation in the 21st century."