We are convinced that a sustainable and consistent strategy for equality and diversity is indispensable for the cluster to realize its full potential. We wish to address employees and students of all career stages, focusing on active recruiting strategies and promoting work-life balance.
Offers of the University of Stuttgart
Information and offers of SimTech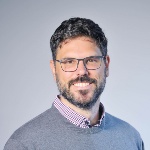 Michael Sedlmair
Prof. Dr.
Professorship Virtual Reality and Augmented Reality
[Photo: SimTech/Max Kovalenko]